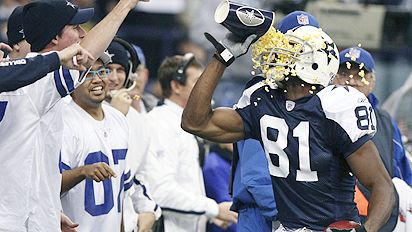 The Cowboys beat the Packers, Romo threw for 4 TDs (one to T.O. – 2 had he caught a sure-thing early in the Q4 – and caught for 156 yards), and the 'Boys defense took Favre out in the Q2. Yes, it could've been a different story for the Packers score had Favre not stayed on the sidelines throughout the 2nd half, but Dallas still scored 37 points. Could Favre bring them back to 38 points or more? Who knows…Not important anymore.
Dallas is 11-1 and Green Bay is 10-2.
My question is this: How long will it take for Green Bay to be branded a "horrible team with a snowball's chance in hell to win the Super Bowl" like the Colts now have? Come on, like the Colts, they only have 2 losses! And last I heard two losses on the season was still pretty damned good. Just don't be surprised if it's a Colts-Packers Super Bowl.
Tags: Brett-favre Colts Cowboys Dallas-cowboys Espn Green-bay-packers Indianapolis Colts Packers T.o. Terrel-owens The-boys The-pack Tony-romo